March 2022 Disney Trip
Here is a review and description of our recent trip to Walt Disney World in Orlando Florida. I hope that this is helpful to people. If you have any questions or concerns, please let me know and i will do my best to update this article and respond.
We have broken this down into the following areas.
Overview
A great deal of what we describe here will not be applicable to most groups. We traveled with 20 people total including an infant, three toddlers, several children, and many adults. Additionally, we traveled over spring break. These notes are important as, when you go to Disney, hopefully you will not experience some of the issues that we ran into given the time of year and large group size. In all, this was an amazing experience and I really recommend it to anyone interested.
Travel to WDW
Literally Planes, Trains, and Automobiles, we had a relatively interesting trip to WDW. Not able to drive, we opted to travel from Jefferson City Missouri to Kansas City Missouri via train. Once there, we got a ride to the airport from family and flew from MCI to MCO (Orlando Florida). We then took the Sunshine Flyer from the airport to our resort, Port Orleans French Quarter.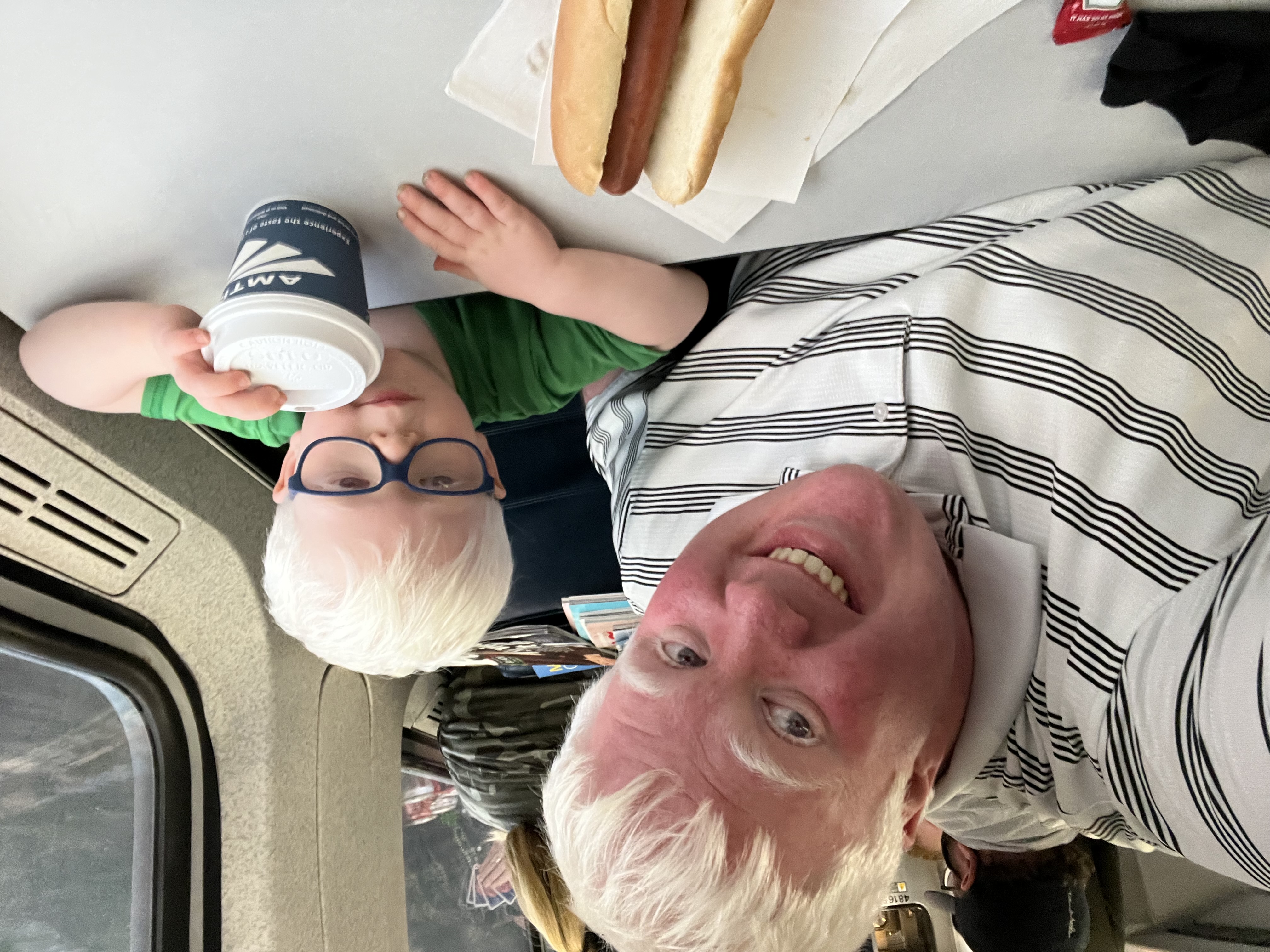 Amtrak: We often take Amtrak and, typically really enjoy the experience. The adults got food to carry on but I killed time with my two-year-old by allowing him to enjoy a hot dog from the café car. We had a great deal more luggage than normal. With plans to be gone for ten days, a stroller, car seats, and four travelers, this resulted in a lot of baggage. The conductors were extremely accommodating and assisted us in loading and unloading bags, children, and the rest.
Southwest Airlines: This is our go-to choice for flights. While cheaper deals can be had, e.g. Spirit, you can't beat the 2 bags fly free policy. Additionally, we have always found that the staff are excellent to work with when it comes to children, disabilities, and any other problems you may have. We typically request pre-board status. If you have a disability you just have to ask a gate agent and they will re-ticket you to allow you and a companion to board first. This is very helpful to people who are visually impaired so that you don't lose track of your belongings or travel companions. Additionally, if you are traveling with a stroller, bring that thing straight on through security to confine your young escape artists. The airline will be happy to gate check it for you (for free) so that you can confine children up until entering and as soon as exiting the plane.
Sunshine Flyer: While our other methods of transportation warrant rave reviews, and the return trips were equally impressive, the Sunshine Flyer only deserves the mention that it adequately transported us from point A to point B. The bus was clean, we waited for a very short amount of time before departing the airport, the return trip was much longer but not more than an hour and a half, and, as promised, we did get where we wanted to go. Normally, this is all I would ask for. Indeed, should this be all that was advertised, I think, my review would be outstanding. However, what makes this service stand out from the other options is theming. The website boasts a 1920s classic rail experience and in-coach entertainment. On the way to the resort, while a man dressed as an engineer was present, there was absolutely no entertainment other than the discussions struck up between my fellow passengers and me. On the way back, the bus even lacked the themed wrapping. Very disappointing compared to what I thought it would be. This does not mean that you should not book this service. Again, it was adequate and, really, all you need to do is get to the hotel. Just don't expect any extra "magic" with this company.
General Impressions
"Katherine, should we go to Disney during spring break again?" "NO! Never Again" - Like I said, there are many reasons why our trip was more complicated than yours should be. Perhaps the thing that complicated it the most was the time of year that we journeyed to WDW. The place was packed! Notably, the resorts were nice and calm, transportation was not a problem (while packed in like sardines at times, at least you were packed in) but the parks were beyond crowded. If spring break is the only time you can go, you absolutely can have an amazing time but if you can avoid traveling over the weeks when crowds are nearly guaranteed to be the worst, do your self a favor, and consider traveling another time instead. We were able to do nearly everything we set out to but that was, in large part, because of extreme planning and strategic use of the DAS Pass. I think that the more crowded Disney is the less possibility for deviation from your plan or spontaneity exists. Stopping for a snack may take thirty or forty minutes and that could set your day back, due to the cascade effect of not having reservations, by several hours. Disney Springs was equally crowded when we went on our last day. Again, you can certainly have fun but wall-to-wall people decreases your ability to be spontaneous and takes away from the ambiance of the parks. It is hard to enjoy the pianist at Casey's Corner, for example, when there are five hundred people between you and the piano. All that said, the weather was amazing and mobile ordering, DAS Pass, new attractions, and the experience of seeing a beloved place through the eyes of my very own child made this one of the best trips I have ever taken. It was hard work but so worth it. Below are a couple really useful tips that we decided we wanted to share with you.
If you have a stroller, the cast WILL MOVE IT. They will tell you that they don't but they will. They have to. People use balloons, lights, and signs to indicate which stroller is there's. I think I will be more obnoxious next time and wrap reflective tape on the handlebars of my stroller. No one did anything like that and, in a sea of six hundred black four wheeled contraptions, I think that yellow reflective handlebars would stand out.
Popcorn buckets are great. After buying it for about $12.00, a $2.00 refill is a great snack for your kids when stuck in a line
Be sure to pack snacks, sunscreen, toys, and anything else you think you may need in the park. We used a backpack but you could stash it in your stroller also. That is as long as you can fold it up when you get on the bus.
The Skyliner is amazing. Whether you take it to park hop between EPCOT and Hollywood Studios or, like we did on our first day, just rode it for fun, you will enjoy the speed of transportation and amazing views that only suspension in thin air can provide.
Get dining reservations as early as possible. If you don't get what you want, check the day before you are going to have dinner and, likely, there will be a cancellation for something good even if not your first choice.
Be flexible and have a good time. Its going to be hot, it might rain, you will get hangry but do your best to remember you are on vacation. Even so, things may not always work out. Perhaps the ride you want is broken or you get stuck, as I did, behind the guy who thinks that Disney is trying to steal his identity with the fingerprint scanner in the admission turnstiles; just try to find something else to do and move on from the bad. There is plenty of fun to be had by all.
DONT FORGET to make your Park Reservations. Hopefully this will end soon but, for now, a ticket will only get you into a park if you also have a reservation.
Food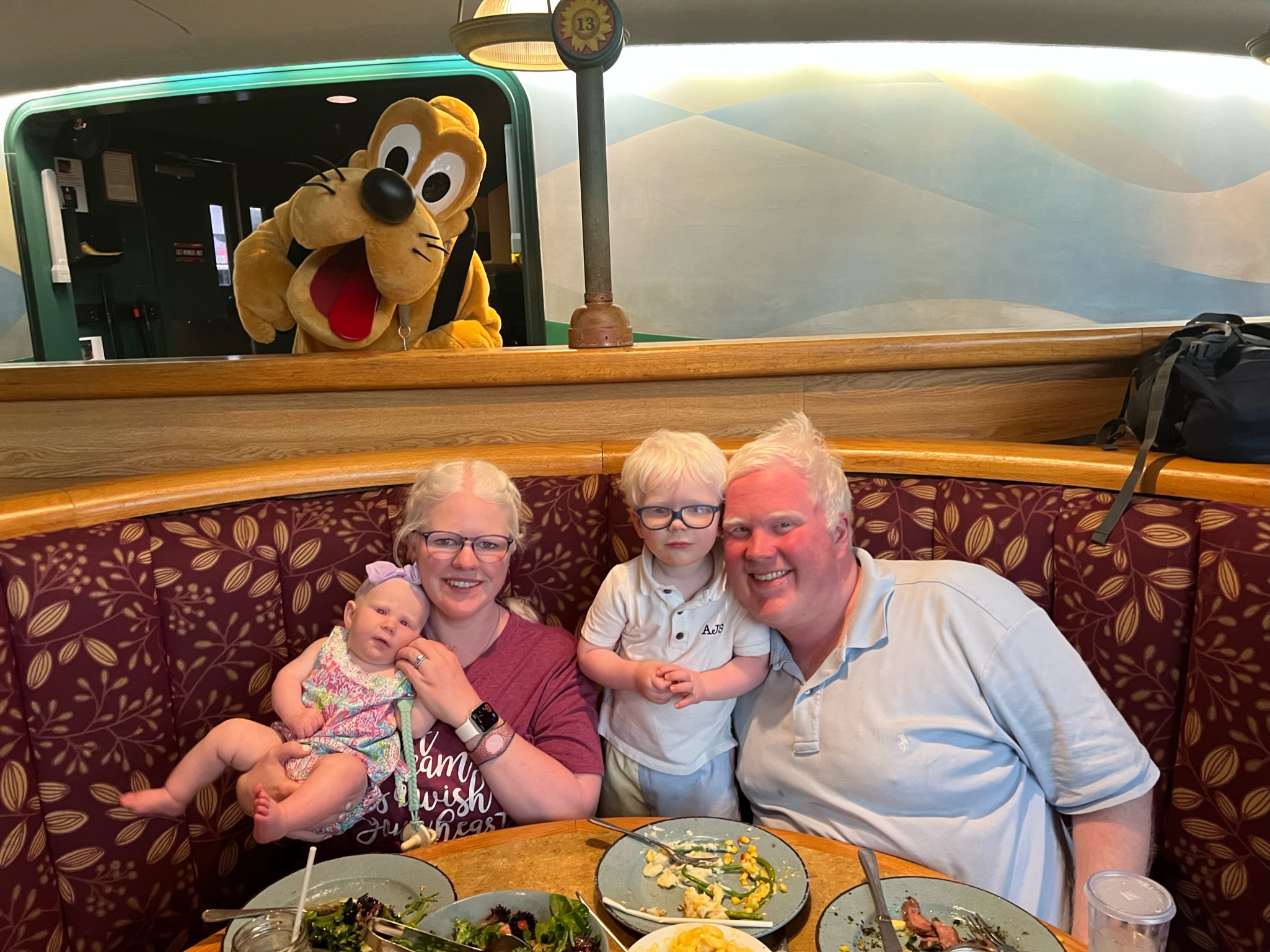 Food at Disney has changed a lot over the last several years. There is something for almost every taste. Disney food is divided into snacks, quick service, and table service. There are tons of reviews out there for you to read should you choose to but I wanted to recommend our top pick for this trip. We dined at The Garden Grill in EPCOT. This is a rotating restaurant in The Land Pavilion. It is a bit pricey at $55 per adult but worth it. You dine on a family style feast of steak, turkey, stuffing, mashed potatoes, corn, green beans, salad, and berry shortcake while your table experiences the four biomes from the Living with the Land ride below. Meanwhile, your children are entertained by visits from Mickey Mouse, Chip, Dale, and Pluto. Best of all, most of the vegetables you dine on are grown in the greenhouses on site.
We also dined at Crystal Palace, Hollywood and Vine, Mama Melrose, and Boatwrites. Should you wish to get a review of these from me please let me know.
Hotel
We stayed at Disney's Port Orleans French Quarter. Themed like the district of the same name in New Orleans LA you can enjoy cobblestone streets, vintage streetlamps, manicured gardens, and a pool sporting a dragon slide. This resort has two main advantages over many of the others. First, it is a moderate. This means that it is not the cheapest but also not the most expensive resort. Second, it is the smallest Disney resorts on property. Walking from your room to busses, for example, can take a fraction of the time as at larger resorts. We loved this resort, although we did not have the time to enjoy many of the amenities. While we had amazing gumbo and beignets at the onsite restaurant, swam in the pool, and enjoyed the grounds but we did not watch any of the movies shown outside, take a horse-drawn carriage ride, or rent a surrey. You really could spend an entire vacation just enjoying the resort. As for the rooms, they are on the smaller side. While you will certainly have enough space don't expect to sprawl out on couches or anything like that. Our room had two queen beds, a table with two chairs, and a tiny bench. Perfect for the after park crash pad that we used it for. One final note, the cast at the resort was unbelievable. They really went above and beyond to make sure that we had a vacation that would yield memories to last a lifetime.
DAS Pass and Genie+
We used DAS passes for our trip to WDW and they made a world of difference. I would highly recommend that anyone eligible for this obtain it. If you would like a video on all this information please email me. If enough people request it I will be happy to make one to share with the group. For now, here is a comparison of DAS and Genie+ that, hopefully, will answer most questions people have.
Question
DAS
Genie+
Price
Free
$15 / Person x Day
Number of Reservations
Two Advanced
One at a time
One at a time
May make another after 2 hours
Limits on People
Pass holder and 5 guests
None - Each person pays separately
Do you have to wait between uses
Yes - your reservation is as far into hte future as the current wait time
No but reservations are limited so while possible not to wait, realistically, you will be
Do I recommend it
Absolutely
No, most people seemed to only be able to use this once or twice due to how few reservations are available
DAS uses the lightning lane entrance so there is very little stigma associated with its use. There is a different light pattern when you scan your magic band but I think few if anyone will pick u on it.
You can make reservations for attractions in your My Disney Experience app. This is the easiest way to get your DAS reservations set up as cast members are, essentially, using the exact same tool should you go to a ride.
The DAS Pass holder must ride the ride. My two-year-old can't hold a pass for Rock'n'Roller Coaster as he is too short to ride.
If you experience rides with short wait times while waiting for your reservations you will be able to cover nearly everything in the park.
Lightning Lane: There is always the additional option, with the additional cost, of purchasing per ride lightning lane passes. While the price varies per ride and day, essentially, this is a one time use genie+ or DAS reservation. Honestly, we ran out of time just with using DAS passes but, this is something you could consider.
Conclusion
Walt Disney World is one of our favorite places to visit and, therefore, one of the most exciting places to assist others in experiencing. It definitely is not a relaxing vacation but there is no place like it to build memories that will last a lifetime. To be sure, it is essential that you plan for your visit. With the proper planning, even when there are record crowds, this can a wonderful vacation